03-11-2019, 06:56 PM (This post was last modified: 03-13-2019, 03:49 PM by tunnelOfLies.)
This is big news!
Sean Gouthro, former head of Global Security Operations Center & Investigations, has left Tesla and filed a whistleblower tip to the SEC.
Here we will log all allegations in this thread and put sources in brackets.
Large Theft and Drug Trafficking
- Remember Karl Hansen, in Aug 2018 he filed that raw material, like copper, were stolen from the Gigafatory. He also noted that employees may have been involved in drug trafficking.[4] Gouthro may be able to confirm it. [2]
Martin Tripp Connection
- "Gouthro was also listed in one police report as a point of contact at Tesla while they were pursuing the company's first public whistleblower, Martin Tripp." [3]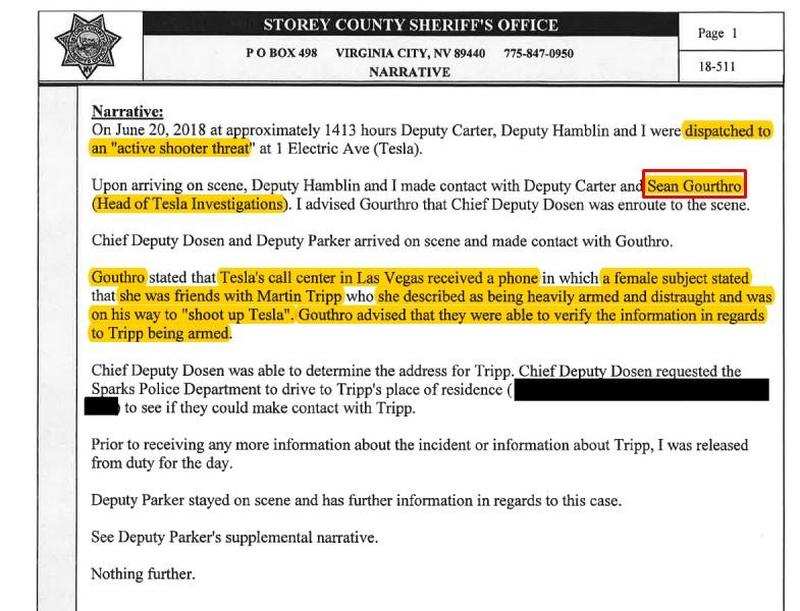 - "Police then heard from [Tesla head of investigations Sean] Gourthro again and informed him that they were set to speak with Tripp at an undisclosed location. Gourthro correctly guessed the meeting spot, telling police later that he knew because "little birds sing.""[7][8]
- Wonder if he will define this: "Gouthro advised that they were able to verify the information in regards to Tripp being armed." [7][8]
- "While Gouthro was trying to address the sex, drugs, and raucous disorganization, Tripp decided to go public. He had access to Tesla's internal production database and dug into it to figure out just how much material was being wasted. He decided to go to Lopez, who'd written about Tesla for Business Insider, emailing and texting her numbers showing wasted material and pictures of battery parts that he said could catch fire."[10]
- "The interview lasted almost six hours. By the end, the investigators seemed sympathetic, telling Tripp what he'd done was "not even close to anything bad." Tripp pulled out his phone and showed them a video of himself playing guitar. "Dude, that's impressive," one said. Gouthro says they debriefed a furious Musk via video conference. Tesla fired Tripp on June 19." [10]
Phone and Email Hacking/Spying
- "corroborating a claim that the company hacked employee cellphones and computers." [1]
- His linkedin profile mentions social media monitoring.[6]
Private Bid Doubt
- "Gouthro noted in his submission that the purported planned transaction to take Tesla private at that price was known and discussed internally by many at Tesla days before the subject tweet, and that many were suspect of the purported deal's legitimacy," Stuart Meissner, a New York-based attorney, said in the statement." [5]
- ""If Gouthro's claim is accurate, it obviously opens up many to be able to [perform insider trading] if they chose to—not something most legit companies would want to happen," Meissner told Observer in an email."[9]
Sources:
1.
https://nordic.businessinsider.com/forme...?r=US&IR=T
2.
https://electrek.co/2019/03/11/tesla-for...factory-1/
3.
https://www.zerohedge.com/news/2019-03-1...stleblower
4.
https://electrek.co/2018/08/16/tesla-emp...afficking/
5.
https://www.bloomberg.com/news/articles/...musk-tweet
6.
https://www.linkedin.com/in/sean-gouthro-a1b7b9177
7.
https://www.reddit.com/r/RealTesla/comme...tory_of_a/
8.
https://www.bloomberg.com/news/articles/...ked-threat
9.
https://observer.com/2019/03/tesla-whist...usk-tweet/
10.
https://www.bloomberg.com/news/features/...rtin-tripp
His Angellist does not list Tesla (old profile):
https://angel.co/sean-gouthro
If you have any additional info please let us know or post in the thread.